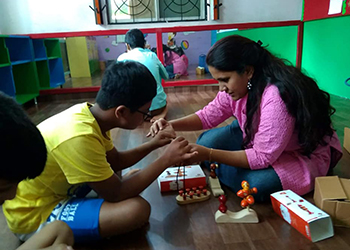 ELEMENTARY LEVEL
(6 TO 12)
Individual lesson plans and customized activity based learning.
Physio / Speech / O T / Sensory Integration
Life skills like:
Personal hygiene
Self awareness
Confidence building
Communication skills
Theater skills
Using technology for enhanced learning Gross and fine motor learning.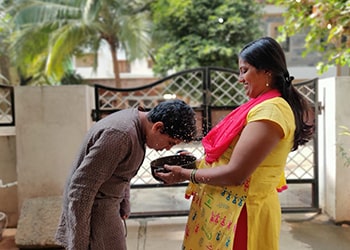 SECONDARY LEVEL
(AGES 12 TO 16)
Computer education
Introduction to computers
Data Entry
Scratch 2 and code.org
Hardware assembly
Online buying, selling , email etc..,
NIOS – secondary level training
Life skills
Theater
Data Entry
Physio / Speech / Yoga
Sex Education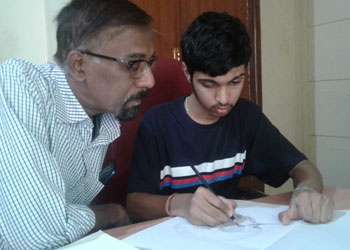 SENIOR SECONDARY LEVELS
(AGES 16 AND ABOVE)
Advanced computer skills
Scratch 2 and code.org
Cyber safety and social media training
NIOS – Sr. Secondary training
Vocational training and creating job opportunities
Life skills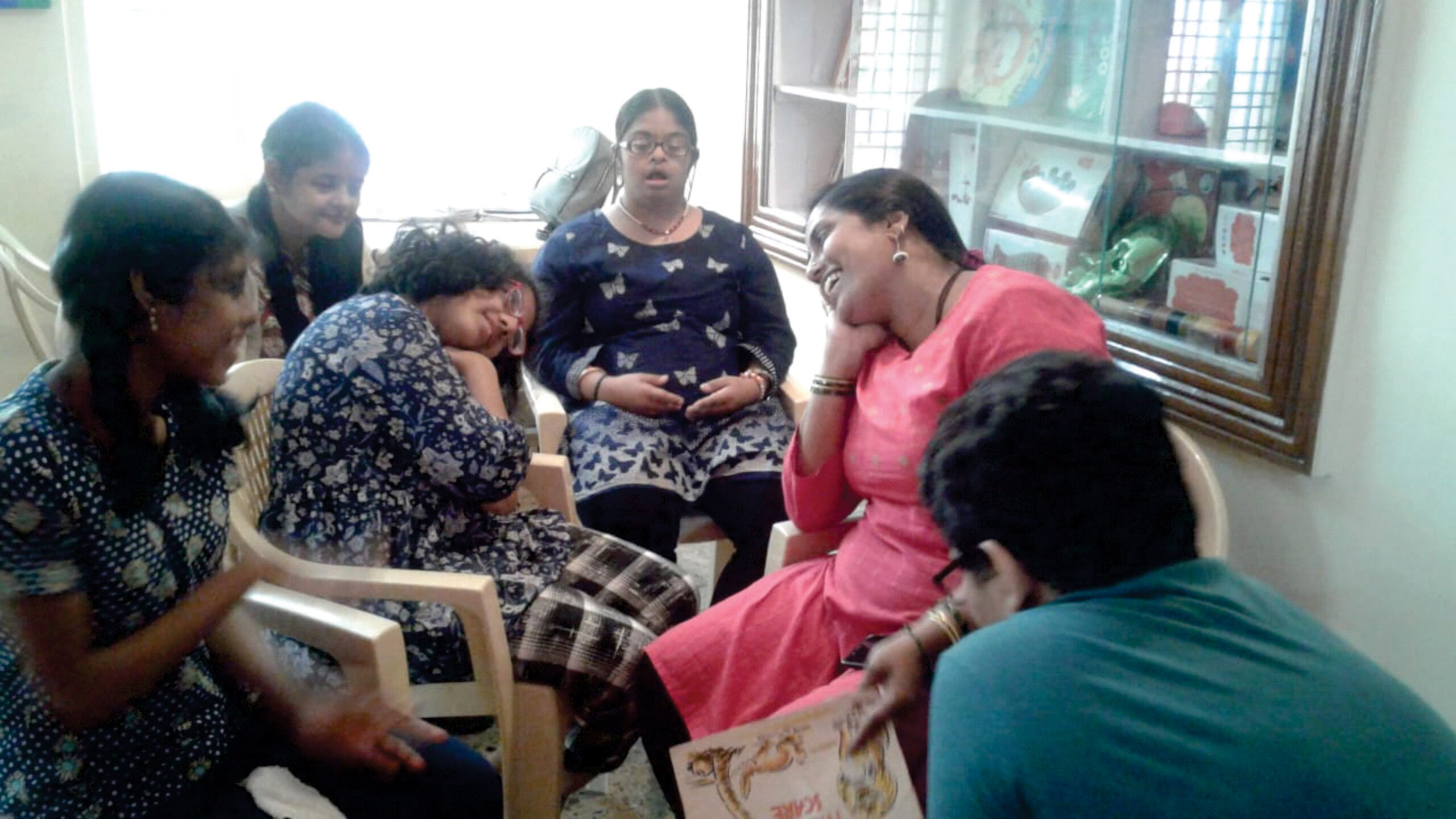 Assessment
Goal Setting
Educable and non-Educable categories (NIOS and Vocational)
Breakdown objectives and lesson plans into feasible and progressive steps to facilitate progress and learning
Select, develop and use a wide range of resources to meet the various needs of all students
Execution and constant feedback mechanism
When the whole world was grappling with covid issues, Chiranthana came up with the idea of introducing classes online. The first online course that Chiranthana introduced through its social enterprise , Art Courtyard Productions was , "Theatre for Sensory Integration".
Rachana Prasad, Founder and Managing Trustee of Chiranthana (also a theatre practitioner),  facilitated this course. 
This six months long program run in batches.  Avinash Muddappa and Sumana Muralidhar are other facilitators of this course.  Totally, we have had about 15+ students enrolled for this course so far.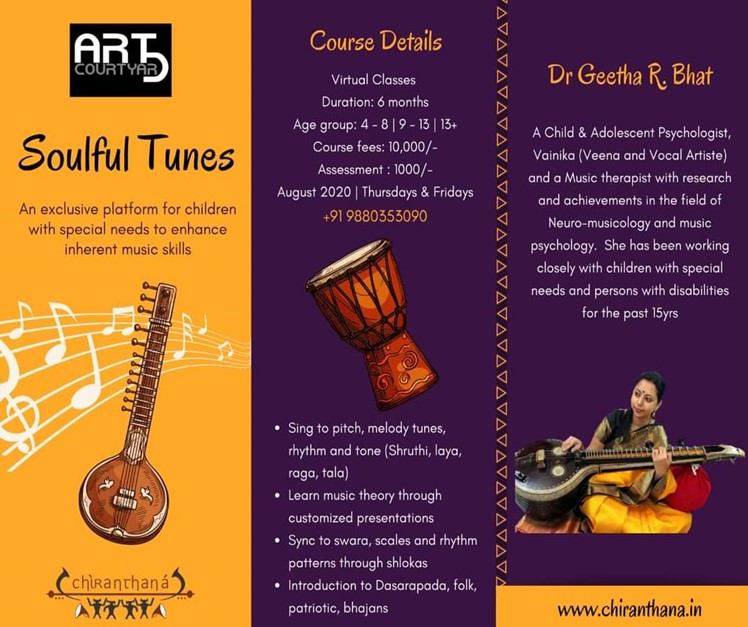 Music therapy can address some sensory needs for children and adults with special needs as it provides concrete multi-sensory stimulation, , Auditory processing and other sensory-motor skills can be enhanced through music.
Art Courtyard Productions came up with a course called Soulful Tunes. This was a 6-month long music certification course. Dr Geetha R Bhat was the facilitator. (we have children from 4 years onwards attending and enjoying the benefits of therapy)
Dance can be physically, mentally and emotionally therapeutic. Dance is a movement to enhance emotions, behaviours and motor skills. It improves confidence and self-esteem, Encourages the creativity and imagination of the performers.
Art Courtyard in collaboration with Abstractics started classes in Nov 2020 and running successfully to date. It caters to two age groups 5 to 12 years and 13 + years.
The classes are being conducted by Mr Karthik, Mr Preetesh and Mr Suraj. Classes are planned twice a week.
The various forms of dance taught included Bollywood, ballet, hip hop, jazz, contemporary.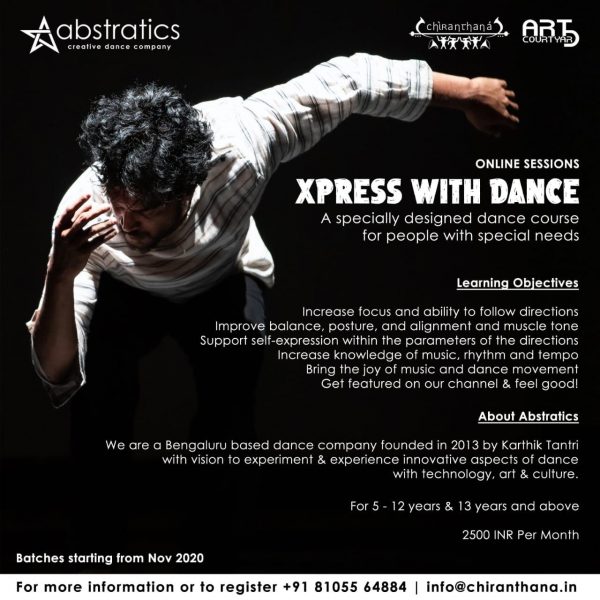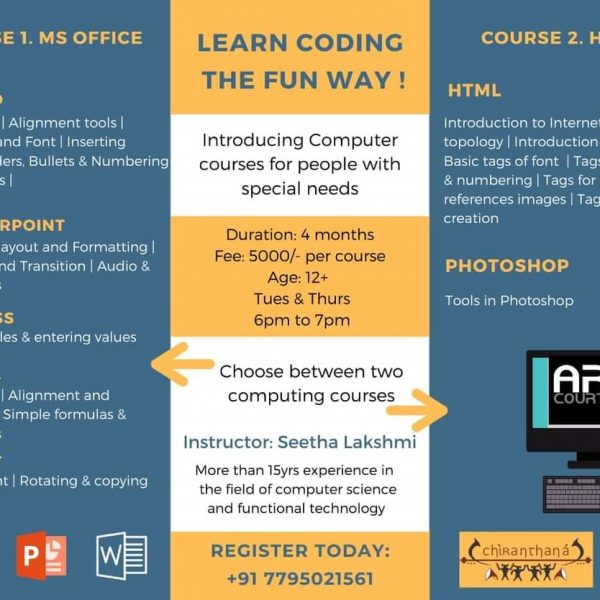 Empowering students with Disabilities to learn computational thinking and computer programming. With this in mind, Art Courtyard Productions introduced classes for coding to open doors to multiple carrier paths.
These activities helps in developing fine motor skills and social skills of the students.
This is a 4-month course which covers various topics like MS Word, MS PowerPoint, MS Excel, MS Access and MS Paint. also the focus will be on HTML and Photoshop areas. 
The course is facilatated by Mrs. Seethalakshmi who has more than 15 years of experience in the field of computer science and functional technology. 
A judgemental attitude, exasperation or impatience may exacerbate special needs behavioural problems since they will feel as if no matter what they do is never enough or worthy of praise and appreciation.As a result, their problematic behaviours may worsen. Hence
Art Courtyard Productions in collaboration with HOPE started the classes for
Social skills for Independent Living for people with special needs.
Facilitators for this course are  Soumya Kuduvalli and Elizabeth. Soumya is a developmental psychologist neuro cognitive therapist and counsellor, Founder of HOPE.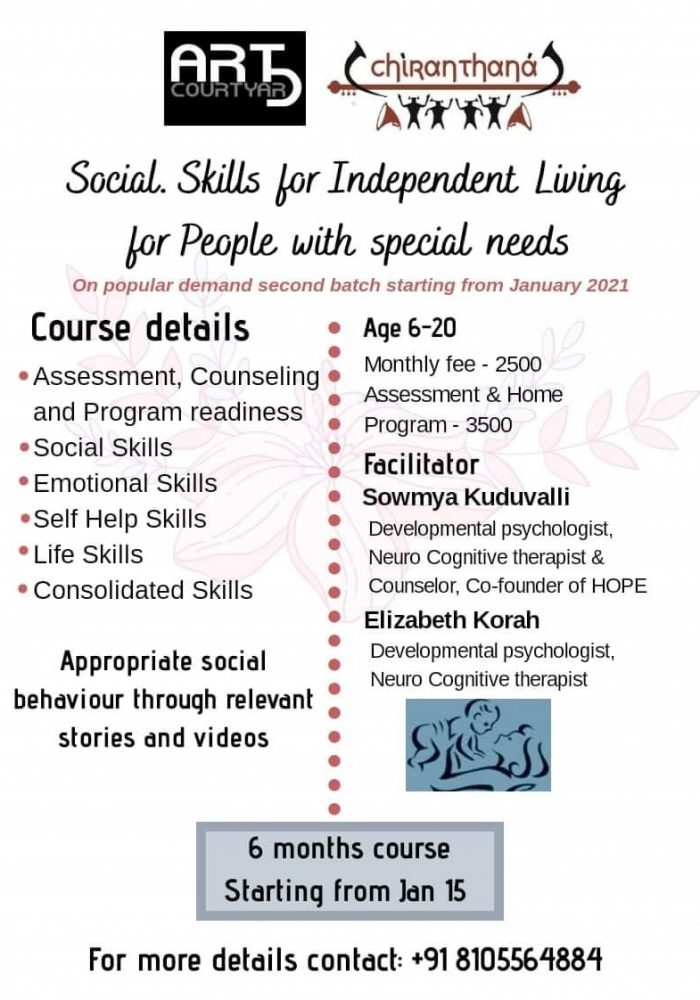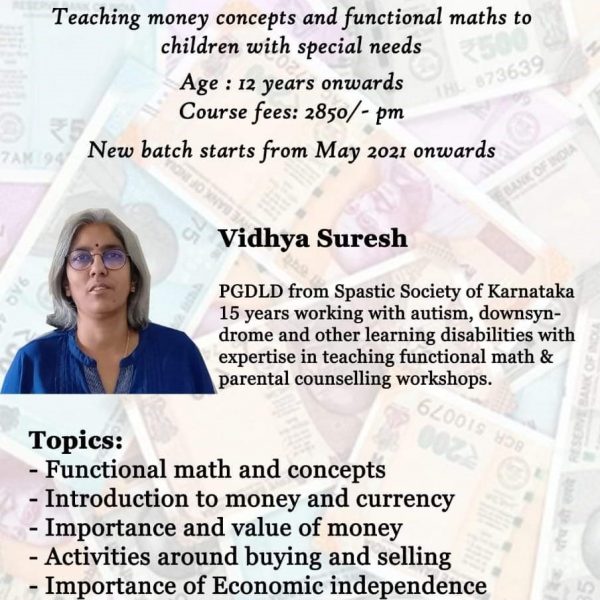 All children need to learn about money to become financially independent adults. There should be an understanding of numbers, math and money in our everyday life.
To teach these kids money skills Art Courtyard Productions started classes in math in August 2020. Functional math and concepts, introduction to money and currency, activities around buying and selling, knowledge to save, economic independence, online banking are a few concepts covered.
"We are very happy that our children have learned math concepts well and are independently using money."
Vidhya Suresh is the facilitator who has done PGDLD from spastic society. She has 15 years of experience working with autism, down syndrome and other learning disabilities. 
NIOS (National Institue of open schooling)
Chiranthana caters to secondary and senior secondary education. We follow the NIOS Board.NIOS is an open school to cater to the needs of a heterogeneous group of learners. The exams can be taken in a phased manner. The subjects taught here are English, Home Science, Data Entry, EVS and Painting.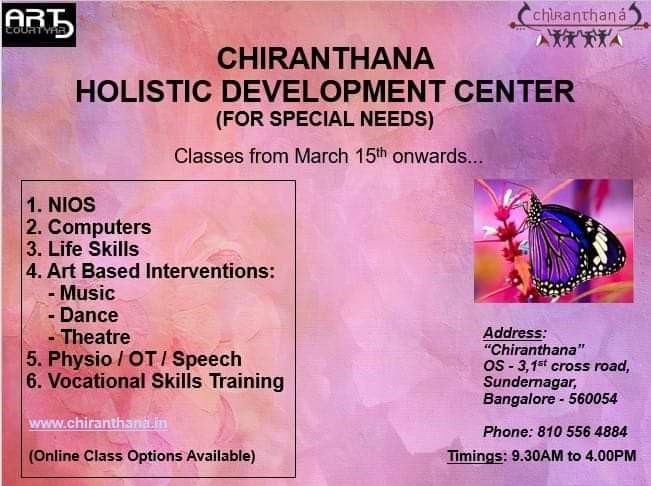 LIFE SKILLS TRAINING PROGRAM
Building capabilities among people with special needs has been Chiranthana's vision! We try to make every student independent and teach them to manage themselves when there is no help around. From brushing teeth to combing hair to managing one's finances, we teach them all. It is an integral part of our curriculum and it is heartening to see our children learn these activities and function independently.
Notice
: Trying to get property 'post_excerpt' of non-object in
/var/www/wp-content/plugins/elementor/includes/widgets/image-carousel.php
on line
846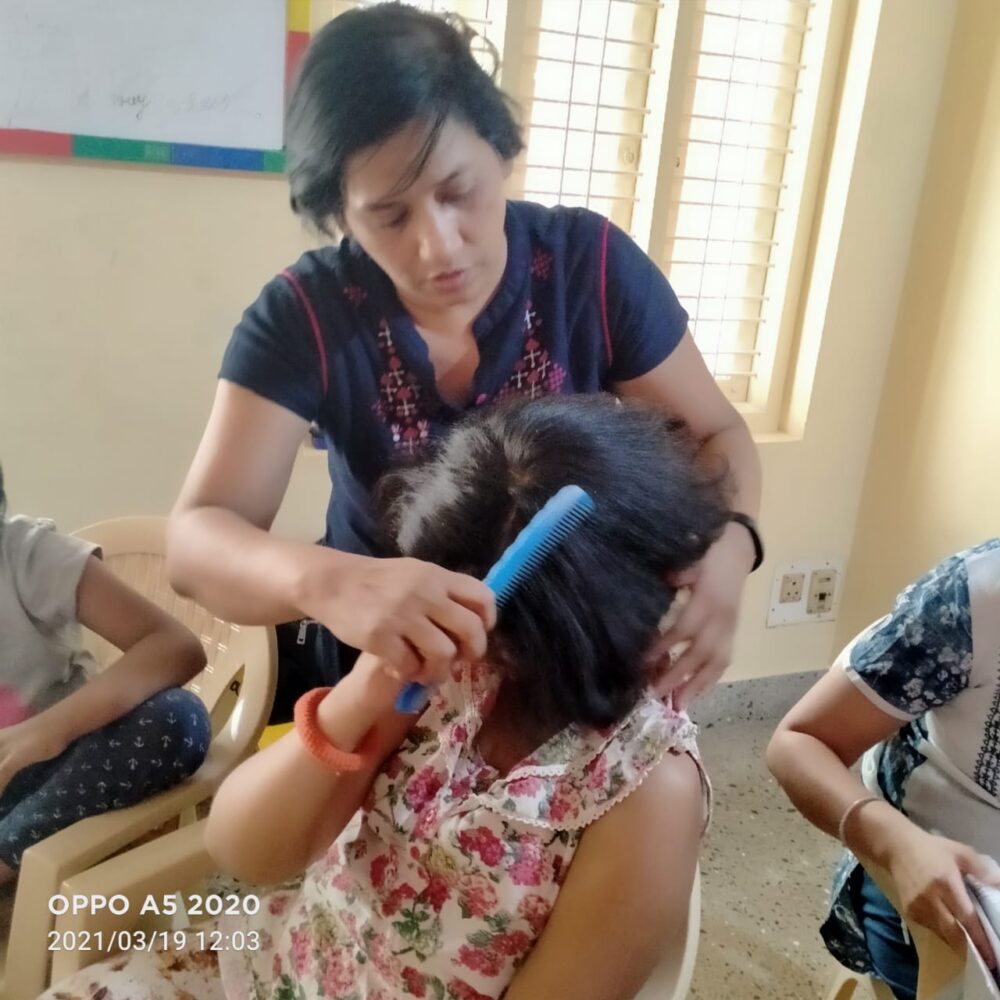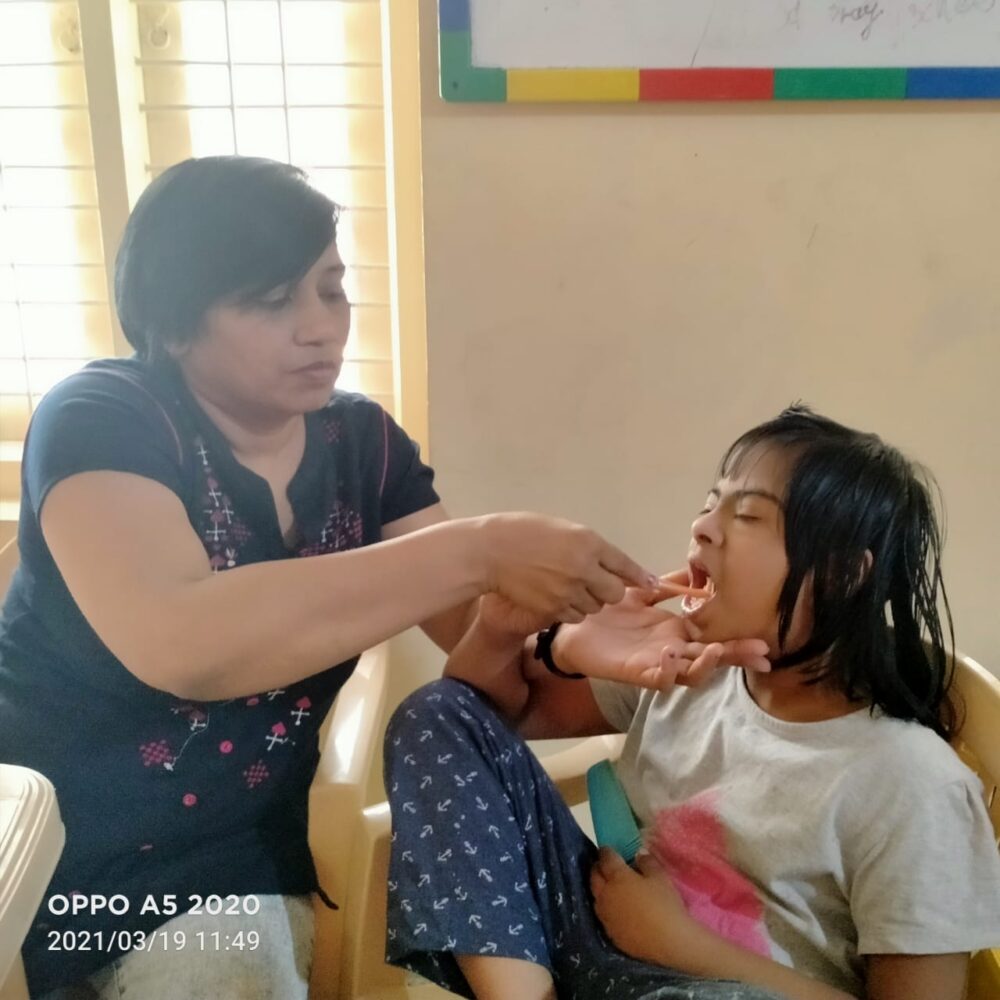 OUR ENGAGEMENT WITH HELP THE BLIND FOUNDATION (HTBF)
HTBF is a registered non-profit organization, registered in Chennai, that awards merit-cum-means scholarship for pursuing Graduation / Post[1]graduation courses in reputed/recognized colleges in India for Visually Impaired persons, providing skill development training (EMET – Education, Mobility, Employability Training) to selected visually impaired students and enabling them to look for jobs.
Chiranthana's Art Courtyard Productions was approached by HTBF to train its students for personality development courses for 1 year. ACY came up with a comprehensive year-long program comprising of : 
Sensory integration using theatre
Voice modulation techniques
Socioemotional skills 
Self-awareness
Leadership skills
Build your brand
Be an effective trainer
Creative thinking 
Podcast
Film making 
Communication skills
Job readiness and interview skills
Interpersonal skills 
IMPACT OF THE INITIATIVE OF ART COURTYARD
Art Courtyard created a huge impact through this program. 
200 + students were trained on the above courses. 
More than 50 students procured jobs 
Students communicate more confidently, have taken part in podcasts and competitions. 
They are also acting in a movie through our filmmaking course.