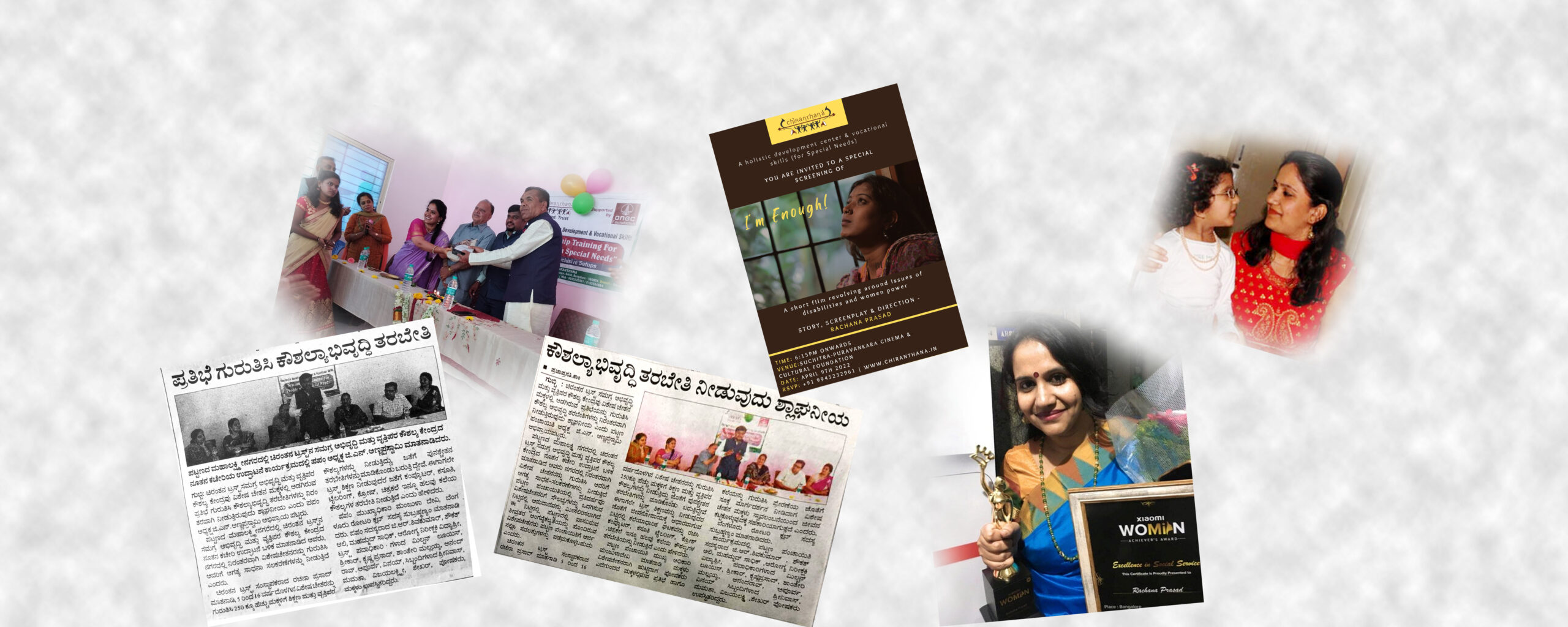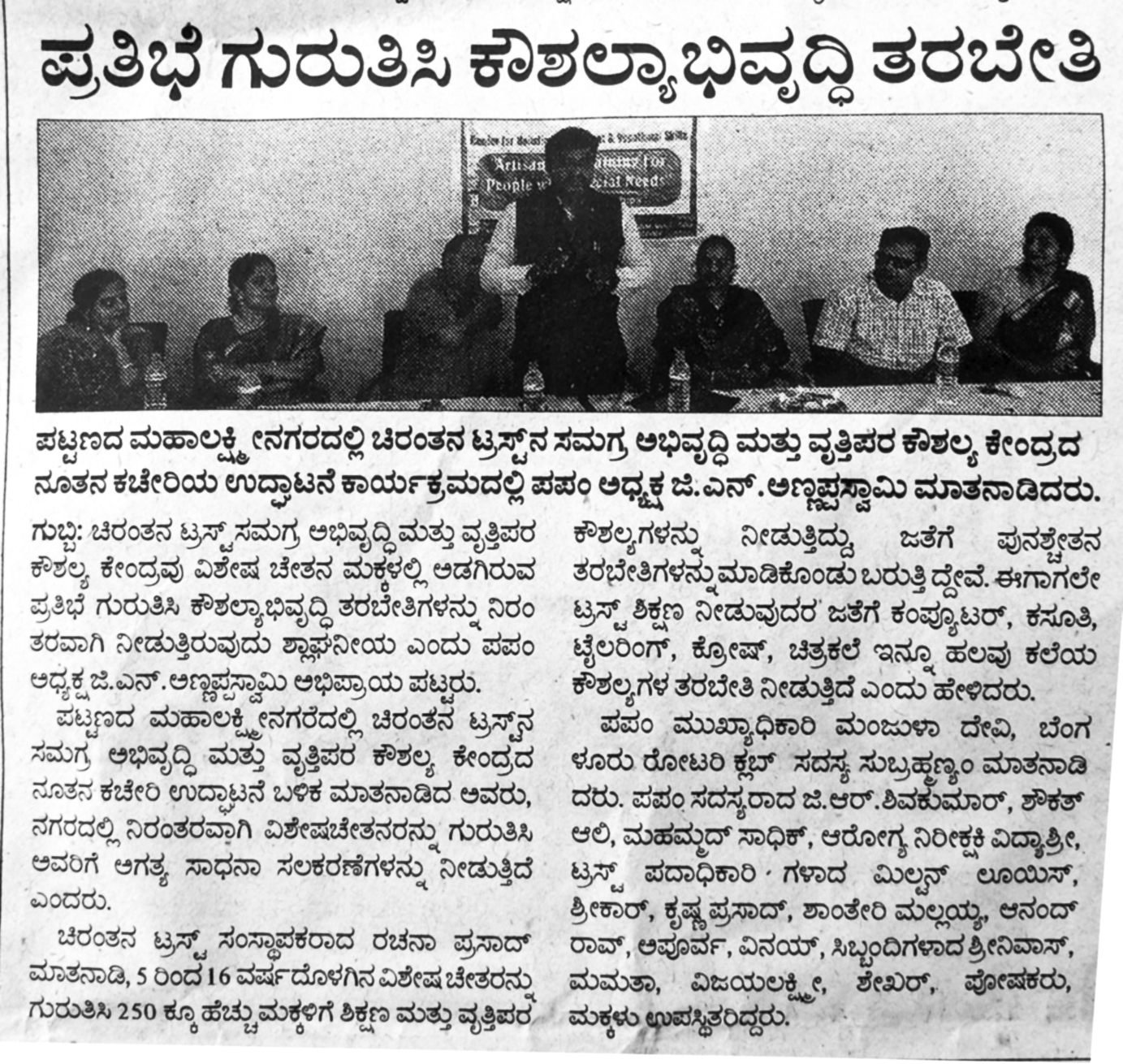 Kiran DM
CEO ONGC Foundation, New Delhi

"Let me tell you again that you must be pure and help anyone who comes to you, as much as lies in your power. And this is good Karma. By the power of this, the heart becomes pure (Chitta-shuddhi), and then Shiva who is residing in every one will become manifest." – Swami Vivekananda
I express my appreciation to the Chiranthana, for doing wonders and empowering special children in the competitive world. I see Rachana and team always enthused to good to the special children. I had interacted and was impressed with the quality of work and when we wanted to impart multidimensional development on theatrical skills through workshop, ONGC Foundation engaged with Chiranthana for training ONGC Community school children at Sitapur in Lucknow on theatre skills. It was amazing to see a team of three people conducted and pull this off wonderfully in a short span of 10 days where 50 plus children were ready with a 15 mins long street play with singing, dancing and theatre, all in place. They have made a huge impact overall and it is a wonderful way to develop the ability and skills in children, helps to improve their verbal and nonverbal communication, to create awareness to the students about the real issues in their surroundings, and awareness among the locals, etc.
We are also working with Chiranthana on "Artisanship training and employment for people with special needs and disabilities" as part of handicraft projects we are supporting on occasion of Azadhi Ki Amruthosshav. I believe this project is different and unique as it aims to create Vocational Skills unit for training of 30 people with special needs/ disabilities and people from poor backgrounds, introducing block printing and Indian art & handicrafts which will provide 6 months of on job training followed by employment.
It is amazing to see how passionately teachers are engaged in this project to educate and train the special adults to become special agents of change by imbibing the required knowledge, skills and positive attitude. This definitely enables to develop the talents in the children with special needs.
On the visit to Chiranthana centre in Bengaluru last August, it was incredible to see the kind of dedication and passion among teachers and children, I was touched and happy at the same time on the interaction with the special children that how effortlessly they equipped themselves in the learning process. The rigorous routine of the academic education, therapy and multifarious activities backed with love and support that guided the children every day, is proof that so much can be achieved by children with special needs.
Wishing Team Chiranthana all the very best in their activities.

Sneha

(Parent of a mother with special child)
Perfection, great execution and commitment is what this group is all about! My child has immensely benefitted from Chiranthana's intervention programs. They are very creative and make learning an enjoyable experience.
Chiranthana gives a platform for children with different abilities and social background to come together and perform on stage . Rachana's creativity and energy got hem out of their shell. My daughter today is more confident and expressive.

Dr. Surekha Ramachandran

(President – Down syndrome federation of India)
I would like to express my appreciation for Ms. Rachana Prasad, the drama therapist who with her innovative style and patient demeanor was able to interest our children in the dramatic arts at the annual Down syndrome meet for parents – Humsafar held at Golden Palms, Bangalore from the 26th to 28th of May 2017.
Children with Down syndrome are by nature very restless and it is difficult to get them to focus, but Ms. Prasad was able to handle them admirably and get them to learn even as they enjoyed her class. MS. Prasad made the session so interactive that everyone present – parents, persons with Down syndrome and their siblings enjoyed the session and took back great learning on how important it was to emote and understand emotions.
I wish to thank her for her session and would like to place on record our appreciation for her dedication and commitment to persons with special needs, especially Down syndrome. Her session definitely did make a difference to the attitude towards the feelings that are conveyed by persons with Down syndrome. We are sure we will be taking her inputs and utilizing her skills in the future too when needed.

Vaishnav Mohan

(HR- Business Support Specialist)
Thanks for having me there at Chiranthana, Rachana Prasad 😊
I volunteered at Chiranthana for two months and worked closely with Rachana. It was so refreshing to see an NGO, so closely aligned with their goals on rehabilitation of children as well as adults with special needs to make them true productive members of the society. Their curriculum was vast and holistic -cutting across everything you could think of. It was a comprehensive learning experience for me, to know about the issues people with special-needs face in our society, entry barriers for them in the corporate as well as the different government mechanisms that are not widely publicised to help them rise above as well . What matters most to me, was the unending love and laughter the kids always exhibited as well as the perseverance to make something of themselves, unfazed by what we call as a "disability". Here's to Chiranthana as well as other NGOs and individuals who make this world so beautiful for everyone.

Nataraj Sankaran

(Trustee, Help The Blind Foundation (India))
Awesome Chiranthana Team!!
I just wanted to share a quick note and let you know that you guys do a really good job. Your dedication to the training program is evident in all aspects of the training. We appreciate your creative approach in motivating our visually impaired students to express themselves without the fear of being judged. The confidence with which the visually impaired students shared their views about our programs in our Annual Meet today was much appreciated by all our donors. I'm glad I decided to work with you. We developed a great partnership and let us continue our efforts in changing the lives of persons with visual impairment. Wishing you all the very best!!

Suresh Heblikar

(Film maker, Writer, Environmentalist)
Chiranthana has been doing a great job in empowering children by sensitizing them towards social causes. Using theater as one of the tools is an added advantage because it works on the holistic development of a child.