Worked with more than 500 children and youth with special needs(autism, Down syndrome, dyslexia, cerebral palsy among a few to name) and have worked on fine and gross motor skills, language development and socio emotional learning.
Worked with adults with Down syndrome and have trained children and youth on drama as a therapeutic tool.Been a speaker at the All India Down Syndrome Federation and have addressed more than 1000 parents of children with Down syndrome and taught them therapeutic tools to overcome disabilities.
A mammoth theatrical production – The Jungle Book, consisting of 75 children with special needs held in December 2018 , was a huge success.
More than 35 independent theatrical productions from Chiranthana for both typical and atypical children. Total no. of children and adults reached so far – 20,000
Worked with students from rural areas on professional readiness, expressive language enhancement, confidence building and other key skills.
Health care among women in rural areas – more than 100 women were educated on the importance of menstrual hygiene and were distributed sanitary pads.
Visiting faculty at Government schools and colleges to train students on life skills and expressive language.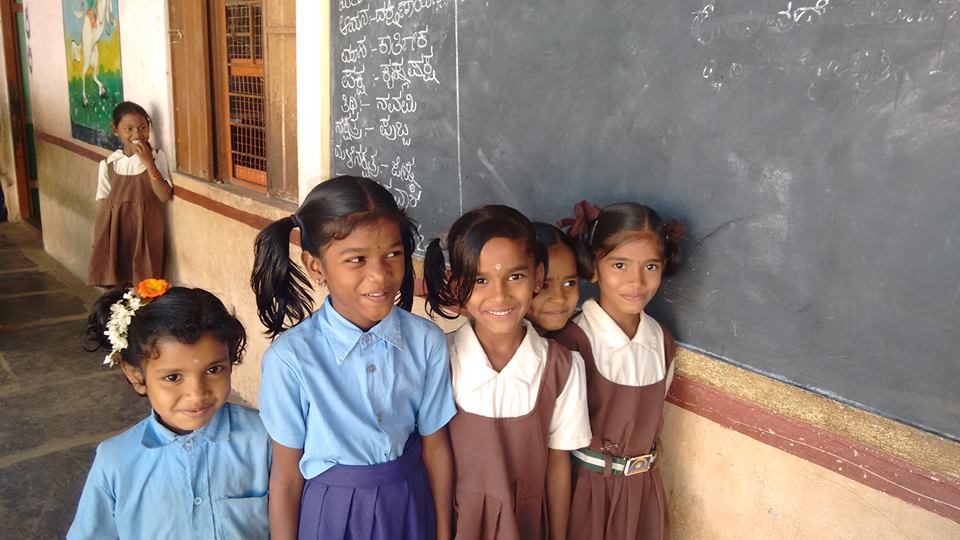 Ration & Medical kits Distribution at Gubbi for the families of Disabled kids
Chiranthana is very happy to share its success story of food -Ration kit and Medical kit distribution at Gubbi taluk of Tumkur district.
The Drive was done on 27th and 28th July 2021.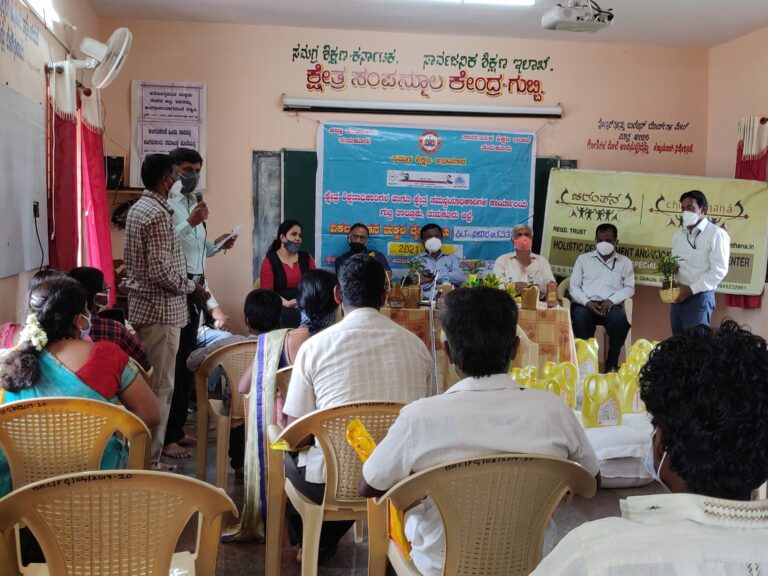 Due to Covid 19 Pandemic and subsequent lockdowns, many families which are below the poverty line are struggling to earn their daily bread.
One of the worst-hit were the families which have children with disabilities who need rations and medicines regularly.
Chiranthana had approached the Azim Premji Foundation to provide the funds to help these families with basic food and medicines kits.
We thank the Azim Premji Foundation for choosing Chiranthana for identifying 150 families of children with disabilities who are below the poverty line at Gubbi taluk Tumkur district and to distribute Necessary medicines to these kids along with basic food items like groceries & cooking oil. Along with the above Hygiene, kits were also part of the kit.
We are grateful to the Education department of Gubbi taluk and the DDPI of Tumkur who have stood with us and organised the whole Distribution activities with their staff and senior officers.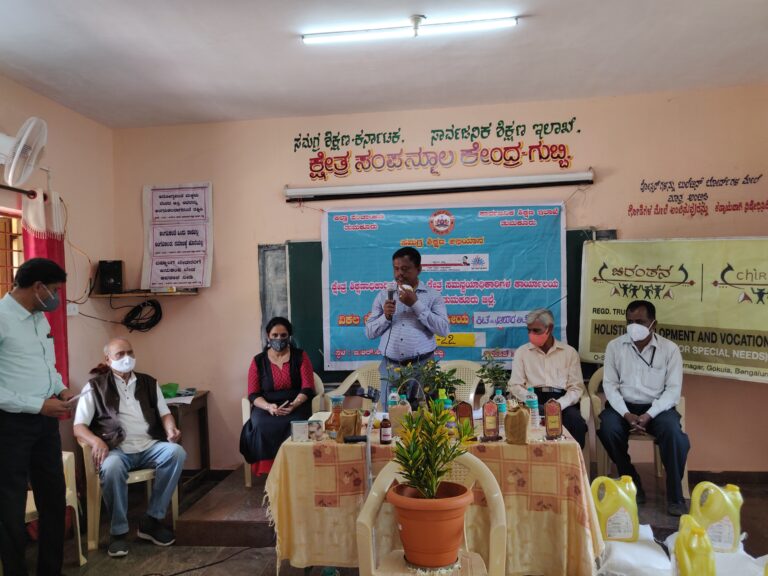 The Drive started on 28th July-2021. The venue was the Gubbi BRC office (Block Resource Coordinator). Mr Nanjaiah DDPI (Deputy Director of public instructions) Tumkur District was the guest of honour and BEO (Block Education Officer) Mr Soma Shekar along with his staff of BIERTs(Block inclusive education resource teachers) were present at the main venue and has helped in distributing Kits at BRC office.
Chiranthana Trustee, Mrs Rachana Prasad along with Treasurer Mr R. Raghavendrarao and Senior General Manager Bheemasimha LN were present at the venue and supervised the whole distribution process from end to end.
The distribution drive was organised well in advance by the BEO office Gubbi and thanks to BEO Somashekar and his BIERTs team. The drive was planned by the BEO & BRC office at 11 centres. Mr SP Siddalinga Swamy BRC Gubbi had Organised the Inauguration and invited the guests with flowers and spoke about the occasion.
The First distribution center was at Gubbi BRC center where 20 families of children with disabilities were provided with food and medical kits.
DDPI Mr Nanjaiah, Rachana Prasad and Mr R.Raghavendra Rao distributed these kits with BIERTs Mr BM. Veeranna and Mr AV.Mallikarjun and other staff members.
We have planned and distributed Ration and medical kit covering length and breadth of the Gubbi taluk in two days.
Total number of families Imapcted = 150 
Number of days of the drive= 2
Number of centres covered =11
Total distance covered in KM = 550 +
Medicine kit beneficiaries = 60
Total work force involved in the drive =12.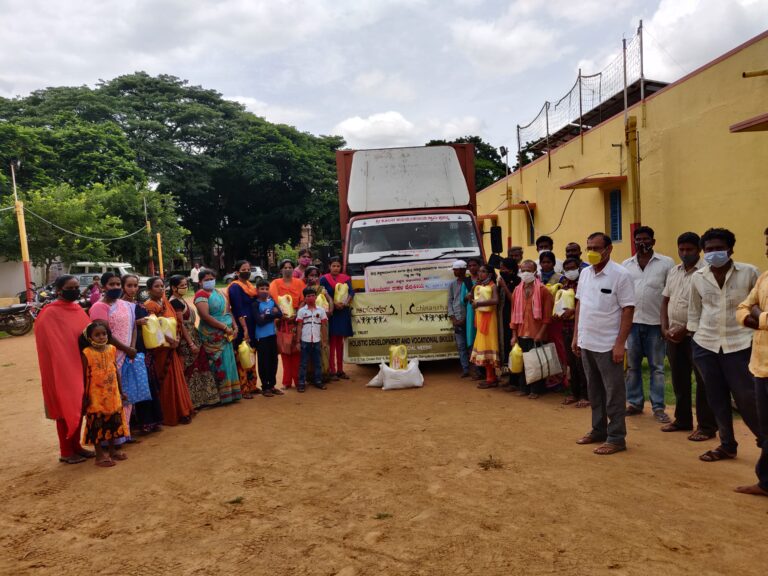 Notice
: Trying to get property 'post_excerpt' of non-object in
/var/www/wp-content/plugins/elementor/includes/widgets/image-carousel.php
on line
846
Notice
: Trying to get property 'post_excerpt' of non-object in
/var/www/wp-content/plugins/elementor/includes/widgets/image-carousel.php
on line
846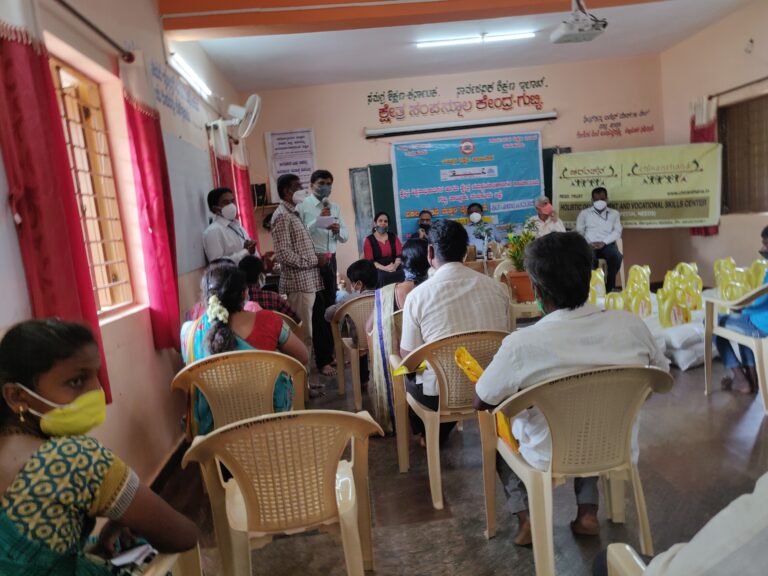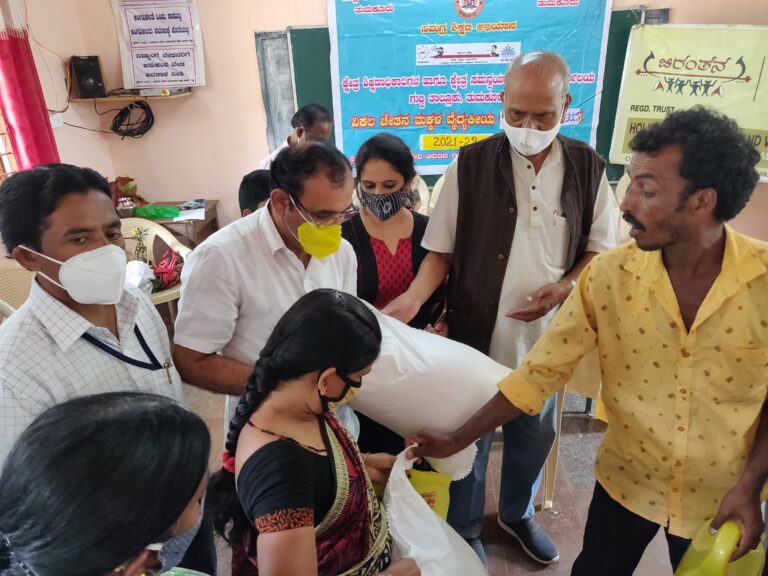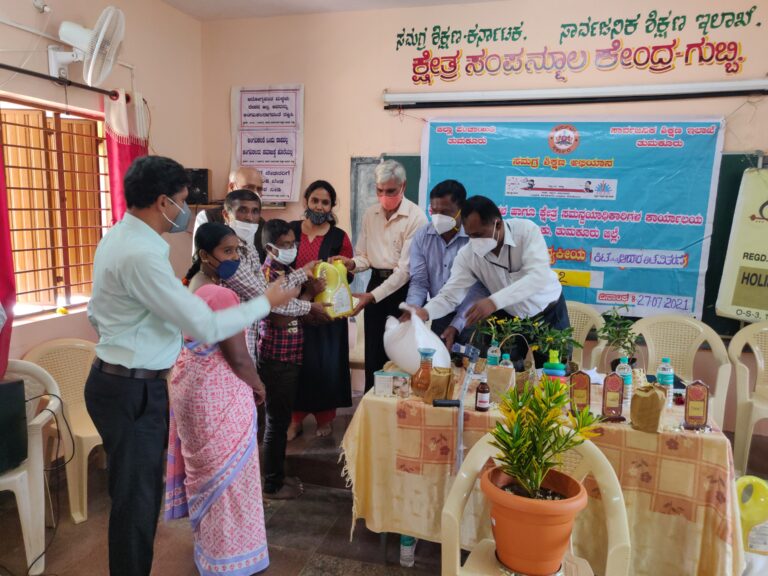 After BRC Gubbi the distribution centre was at Nittur where the CRP (Cluster resource person) Mr Kempaiah, Mr Laksman, Mr Laksmi Kanth had organised the centre considering all safety measures and beneficiary families were present.
Mr R Raghavendra Rao, Mrs Rachana and Bheemasimha distributed the Kits.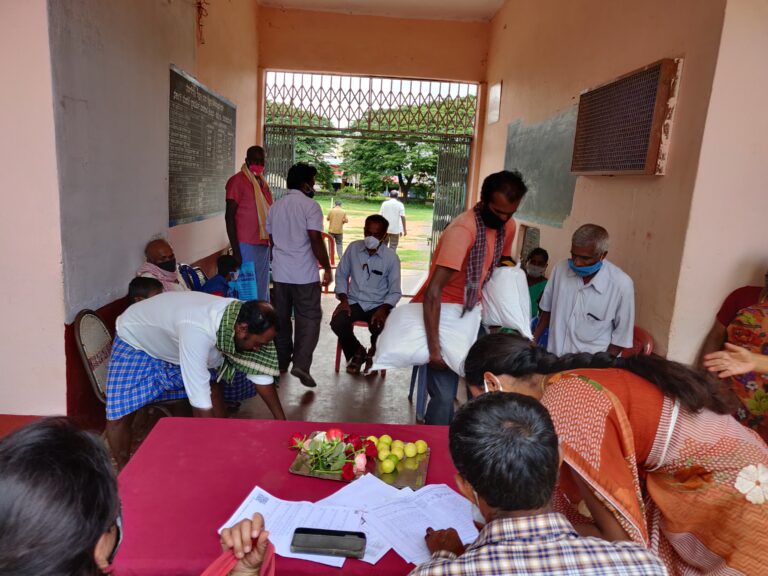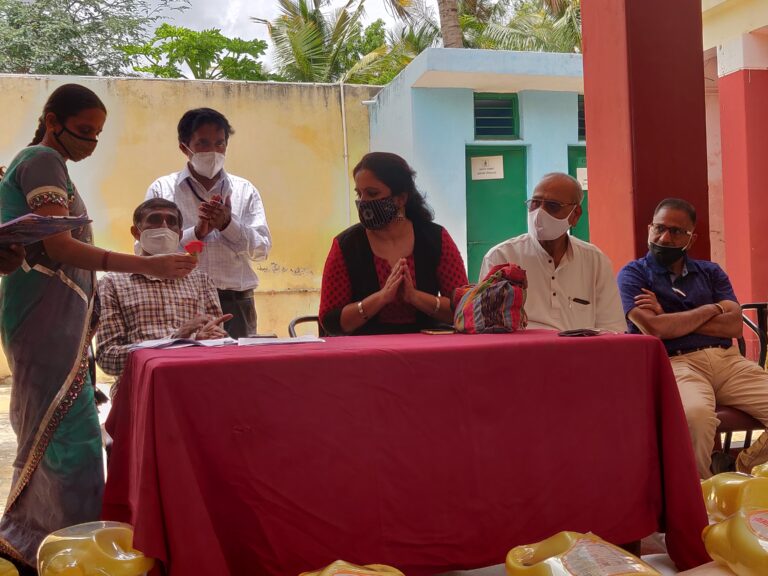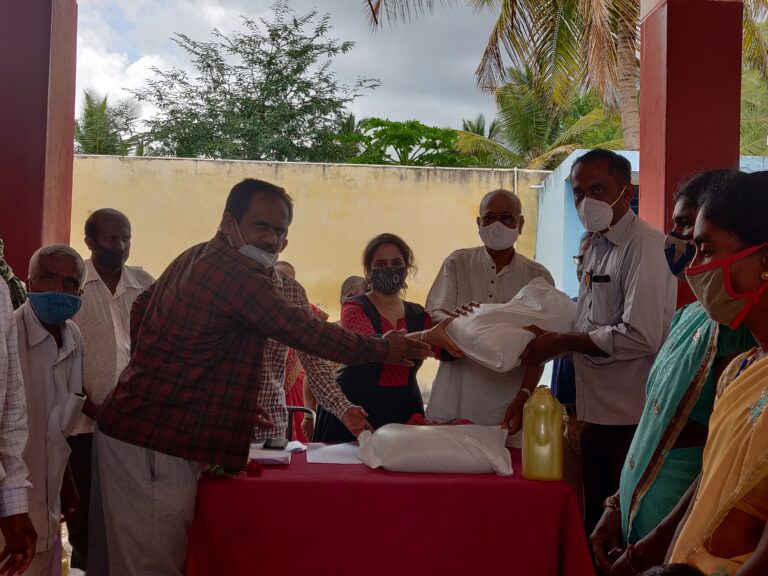 Following centres were covered in two days
Gubbi BRC centre
GMHPS – Nittur
GMHPS – Doddaguni
GMHPS- Hosakere
GMHPS – Chelooru
GMHPS – Bidare
GMHPS -G Hosalli
GMHPS – Mavinahalli
GMHPS – CS Pura
GHSK – Mathigatta
GMHPS – Kadaba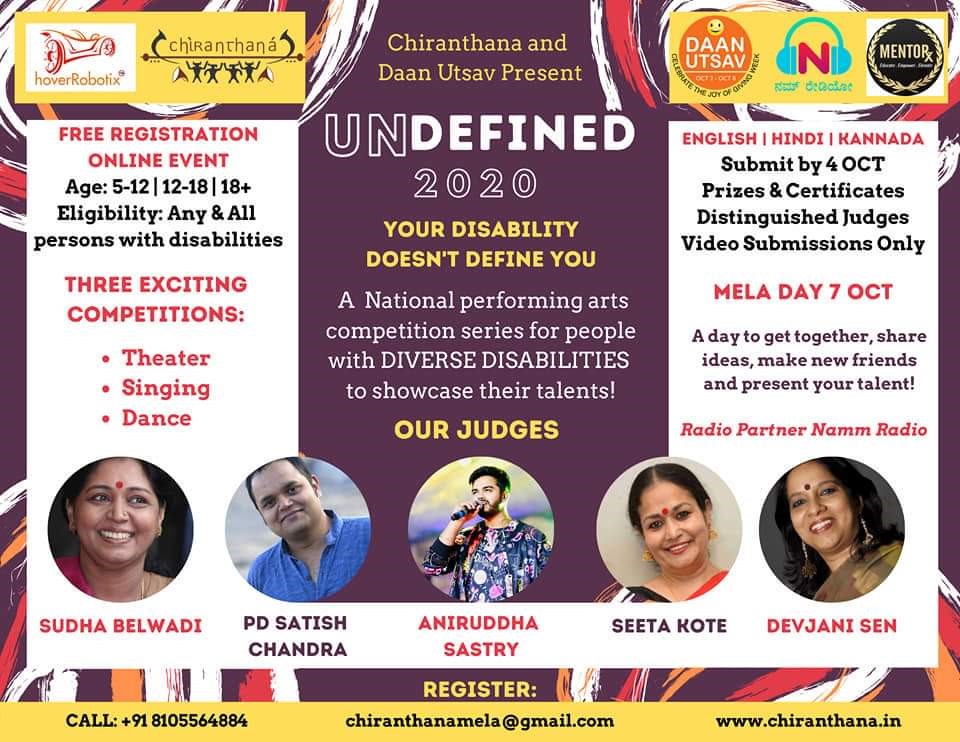 Undefined-2020 – Performing Arts
Chiranthana in collaboration with Daan Utsav had arranged a national level event for performing arts competitions on 7th Oct 2020
Namma Radio has partnered with us for the above event as Radio partners.
As many as 150 participants had turned up for the event. After the selection process was completed 96 participants were selected to perform and exhibit their skills.
A panel of judges comprising of Sudha Belvadi (Kannada Film Actress), Seeta Kote (Kannada Tv actress and dancer), Devjani Sen (Odissi Dancer and Teacher), PD Sathish Chandra (Actor and theatre enthusiast), and Aniruddha Sastry (Indian Actor and Playback Singer).
The chief guests who presided over the program are V.S Basavaraju (Karnataka Disability Commissioner) Kiran D.M ( CEO of ONGC Foundation) Bhargav Ravichandra ( Member of ZRUCC, Ministry of Railways).
There were three categories for the participants to showcase their talents.
Theatre, Singing and Dance. All the participants were given certificates after their active participation.
The first three prizes were Cash prizes. Aniruddh Sastry sponsored judges choice prize. A zoom virtual meeting was set up for the program. Live of the program on FB and Youtube was arranged. This competition was a great success wherein all the participants were from throughout India.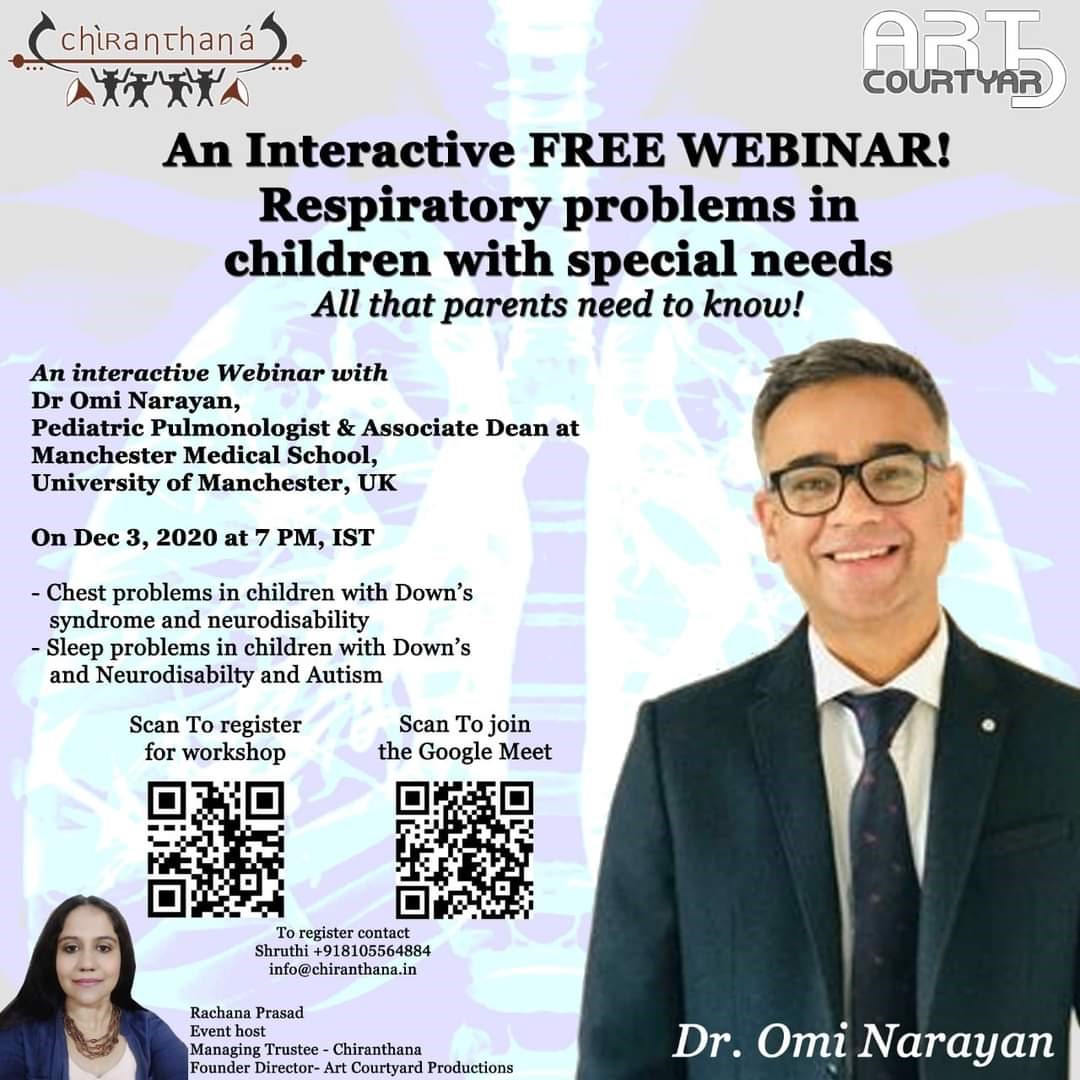 Discussion with Dr Omi Narayan - Pediatric Pulmonologist
On the occasion of International Day of Disabled Persons 2020, Chiranthana's Art Courtyard Productions hosted an interactive free webinar by Dr Omi Narayan for parents on the topic "Respiratory Problems in children with special needs." The webinar was quite informative and much appreciated by parents.
Dr Omi Narayan is a Pediatric Pulmonologist Associate Dean at Manchester Medical School, University of Manchester, UK. It was conducted on 3 Dec 2020. About 25 parents attended the discussion.
Chest problems in children with Down's Syndrome and neuro disability, sleep problems, Autism, Immunity etc were a few problems discussed. Dr Omi Narayan was kind enough to address all the questions from the attendees.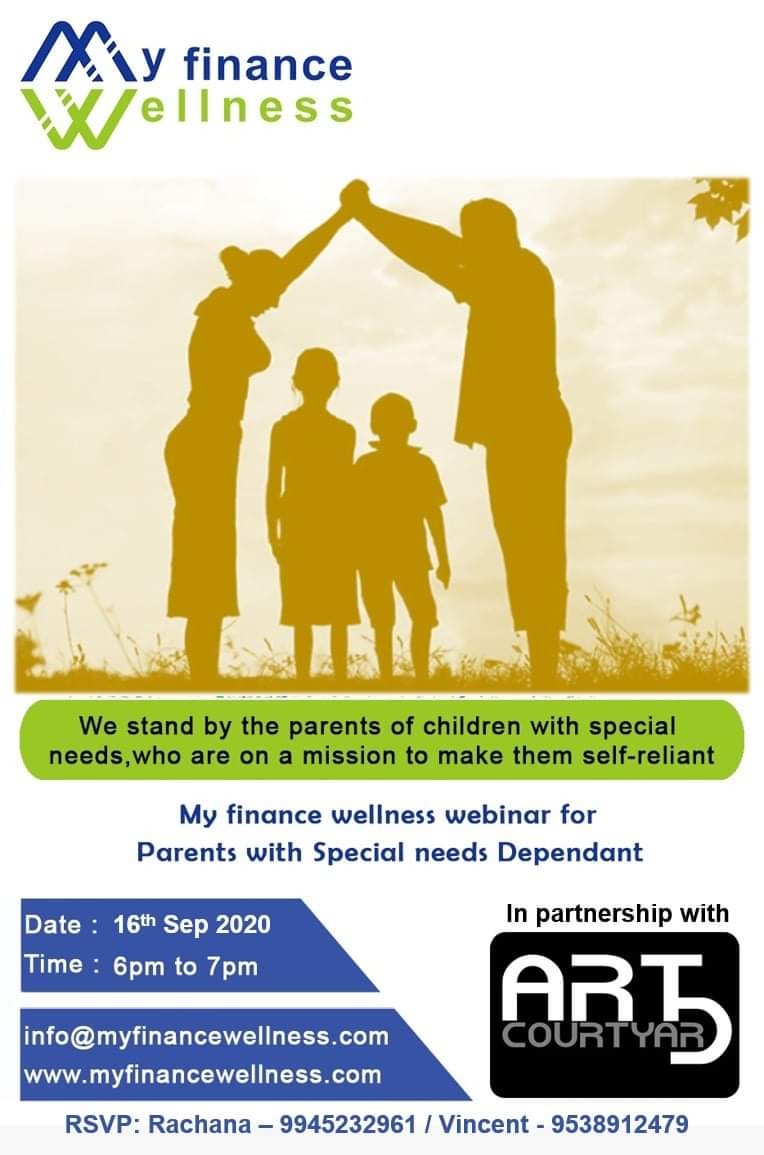 Finance Webinar -My Finanace Wellness
It's important to teach your children good money habits from very early on. It's worth the effort. It will pay off for the rest of their lives it improves their quality of living and participation to their maximum ability in the community.
Art Courtyard in collaboration with My Finance Wellness arranged a webinar to discuss issues around parenting and financial planning for parents of children with special needs. This webinar was free. They advised on what it takes to secure your child's future. There was a good response of about 25 families. It was conducted on 16 Sept 2020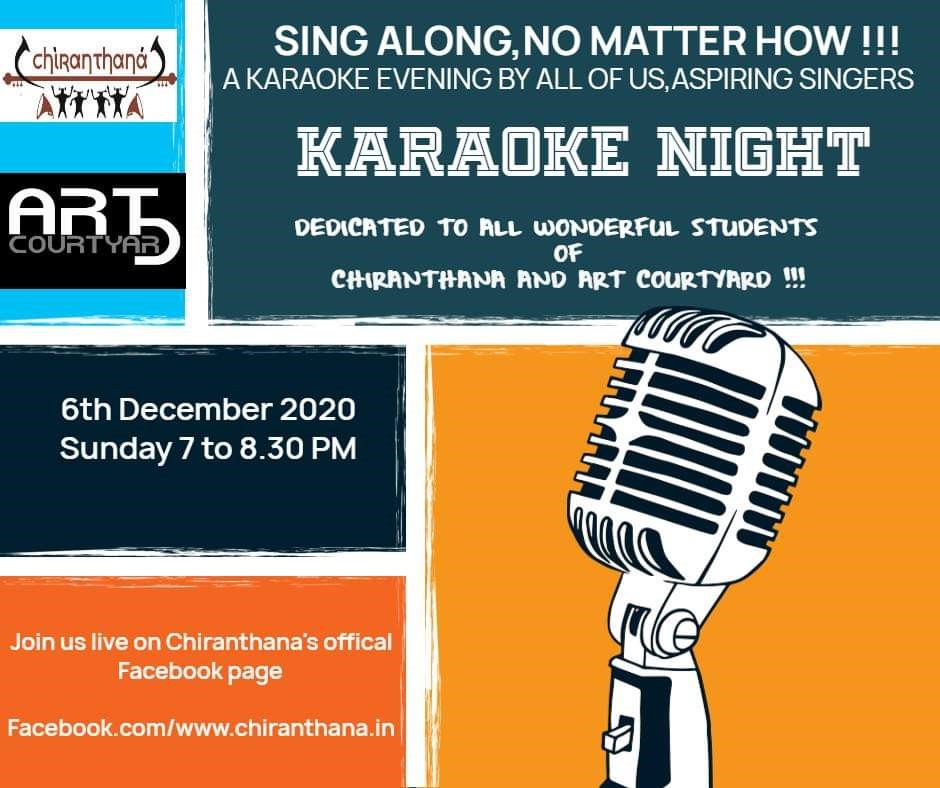 KARAOKE - Sing Along....No matter how
A karaoke night was organised for all aspiring singers by Chiranthana and Art courtyard on 6th Dec 2020.
There were about ten singers from Chiranthana and it was a lovely tribute to the students of Chiranthana who enjoyed it thoroughly.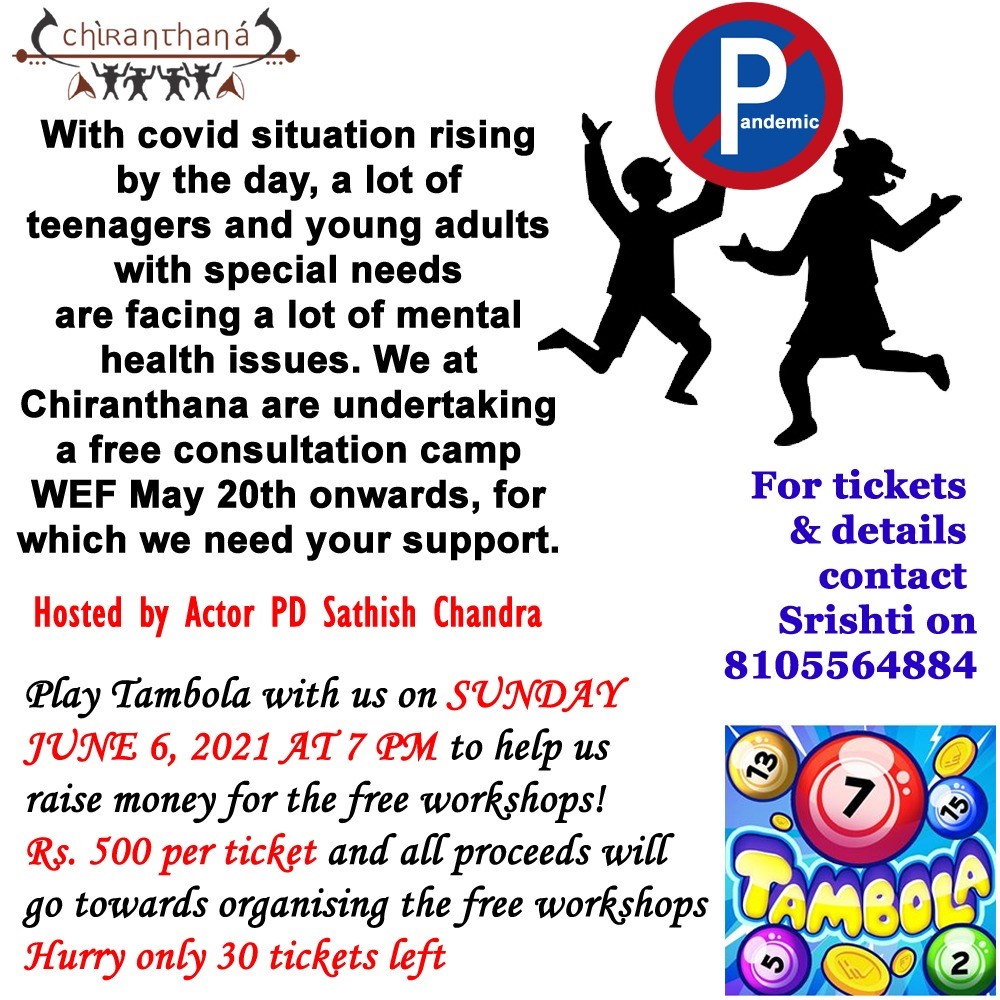 With the covid situation rising by the day, a lot of teenagers and young adults with special needs are facing mental health issues. We at Chiranthana undertook a free consultation camp WEF from May 2oth onwards. To support this workshop we raised money through a game Tambola.Rs 500 per ticket and all the proceeds went towards organising this free workshop. The game was hosted by Actor PD Sathish Chandra.25 tickets were sold.
COVID - 19 - Vaccination drive by Chiranthana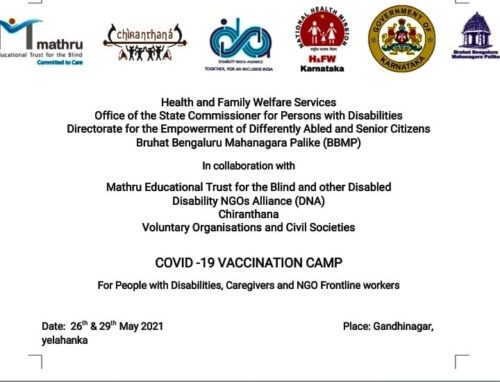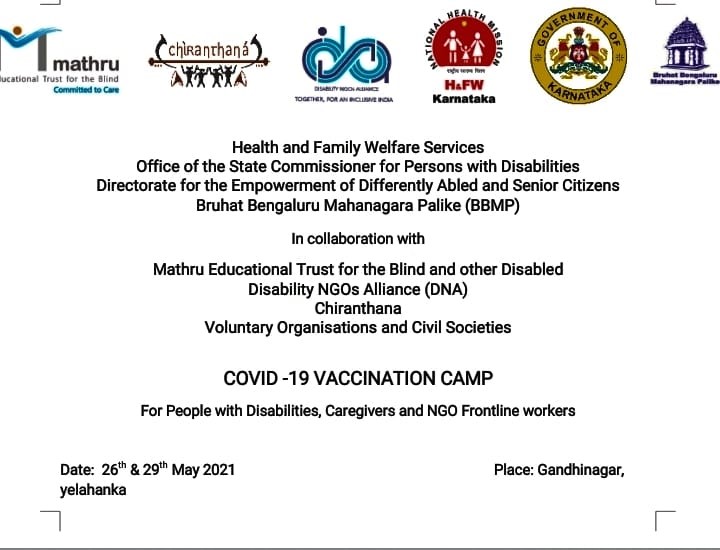 Chiranthana in collaboration with BBMP, DNA and Mathru Foundation conducted a vaccination drive for people with disabilities, caregivers, teachers and the entire staff on 26th May and 29th May 21. It was organised in Mathru school, Yelahanka and we are glad that we were able to vaccinate about 150 people. All the people were given a letter from Chiranthana and a letter from the police authority as a travel pass as we were in lockdown at that time. was the process went on smoothly without any hassles.